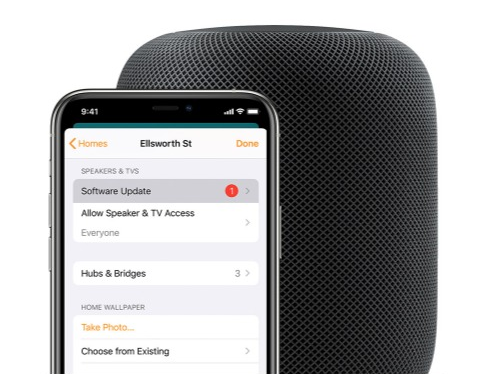 Apple started rolling out a series of software updates for its HomePod smart speaker that adds cool features and capabilities but put a hold on them yesterday because speakers running the new iOS 13.2 operating system stopped working.
While Apple works out the bug, here's a quick summary of the updates HomePod owners can expect.
Speakers running iOS 13.2 will be able to…
• Recognize the voices of different family members for a more personalized experience
• Hand off music, podcasts, or phone calls to an iPhone when it's moved close to the speaker
• Add music to HomeKit scenes (HomeKit allows Apple devices to control compatible smart-home devices)
• Play "relaxing high-quality soundtracks with ambient sounds" (a new mode that plays soothing sounds such as ocean waves or birds in a forest)
• Set sleep timers to fall asleep to music or ambient sounds
HomePods running iOS 12 will be able to…
• Make and receive phone calls or ask Siri who is calling
• Create multiple named timers
• Search for music by lyrics (to finds songs whose names you can't remember)
• Use the Find My iPhone feature
• Access calendars in "additional languages"
• Use Siri shortcuts
HomePods running iOS 11.4 will enable…
• Support for AirPlay 2 multi-room audio, enabling the same song to play everywhere or different songs in different rooms to multiple HomePod and other AirPlay 2-enabled speakers
• A stereo pair to be created with two HomePods in the same room (each HomePod will automatically sense its location in the room)
• "Advanced beamforming" technology, which is said to produce a "wider soundstage than a traditional stereo pair"
• Interaction with calendar appointments (scheduling, canceling, etc.)
Apple's update for HomePods running iOS 12.1.3 fixes a bug that causes the speaker to restart and addresses an issue that disables Siri.
For complete details on the updates, visit apple.com and Apple's support page.