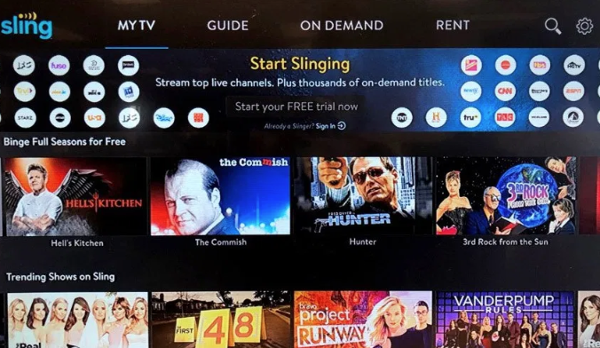 In case you missed it, Dish Network's Sling TV is offering free TV and movies to owners of Android and Amazon devices who don't have a Sling subscription.
To browse and access episodes of Live PD: Police Patrol, Hell's Kitchen, 3rd Rock from the Sun, Heartland, and other TV shows or movies such as The Illusionist and Bad Lieutenant: Port of Call New Orleans, all you have to do is download the Sling TV app on an Amazon Fire TV media player, Amazon Fire tablet, or Android-based smartphone or TV and follow instructions to access the guest mode.
Unlike a free trial, which requires you to set up an account, you don't have to sign up or enter credit-card information. The free content appears in the "My TV" section of the app.
Of course, you'll have the option to sign up for Sling service, which features more than 5,700 movies, purchase pay-per-view events movies, and subscribe to Showtime, STARZ, and other à la carte channels. Sling says it's the only live streaming service that lets you buy channels without a base subscription.
Sling offered the same deal to owners of Roku devices in January.