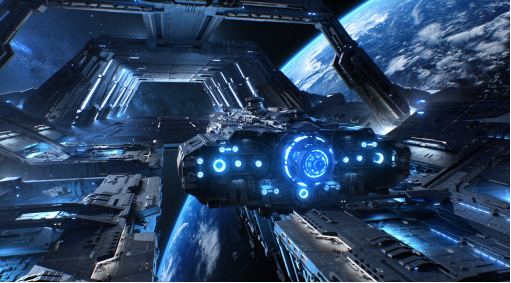 THX is commemorating its 35th anniversary with a remake of the iconic "Deep Note" trailer that has wowed movie-watchers since it debuted with the premiere of Star Wars: Episode VI-Return of the Jedi way back in 1983.
Designed to deliver a "deeper immersive audio experience" while honoring THX's rich Hollywood legacy, the new 60-second trailer is being made available to THX Certified Cinema partners in 4K with object-based immersive audio and in three-dimensional THX Spatial Audio for playback over ordinary headphones. The theater version has been remastered to produce "increased brightness, contrast, clarity, and rich brilliant colors" for playback in THX Ultimate Cinema-equipped theaters.
THX also enlisted the help of fans to name the new trailer with the launch of a Twitter poll where they can vote on the four names in the running: Emerge, Genesis, Transform, or Evolve. (Frankly, we think they should have included a "suggest a name" option…)
"As a nod of appreciation for THX fans and as a bridge to new fans, we're offering this trailer in THX Spatial Audio with incredible pre-rendered immersive sound," said THX CEO Min-Liang Tan. "We engaged brilliant and imaginative people to create a remarkable audio-video experience for broad appeal, that looks and sounds the best it can and can be enjoyed where and when people want it — in the theater, in your home, or on the go from any mobile device."
[embedded content]

Listen to the new THX trailer in 4K.
To deliver an immersive experience over headphones, the company used THX Spatial Audio post-production mixing tools to create "full-sphere" multidimensional sound "coming from all directions."
"Our aim with this piece is to extend the legacy that inspired us as young people in the movie theater," said Ben Rosenblatt, executive producer of the trailer and co-founder of American Meme. "As a kid, I was blown away by the THX Deep Note trailer and would go back to the movie theater again and again just to see it, which inspired me to pursue the career I have in Hollywood today. We hope we've taken this a step beyond the originals to open up young minds and inspire an entirely new generation."
Micho Rutare, writer and director of the trailer and co-founder of American Meme, added: "We hope this trailer ignites people's imaginations. We want to take the audience on a journey, in under a minute, that both refreshes the iconic THX brand for the millennial generation and initiates audiences into the immersive entertainment experience available with this new technology."
Read about the making of the new trailer here.
Click here to read "Finding Deep Note: The Story Behind THX's Famous Sonic Swell," our 2015 interview with composer of the original Deep Note, Dr. James "Andy" Moorer.